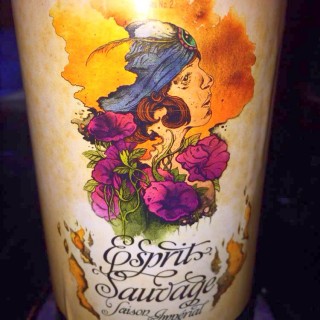 I'm Drinking: Esprit Sauvage
The second in the Asheville Brewing Company and Burial Beer collaboration Asheville Afterlife series, Esprit Sauvage is a fruity saison with very little wheat flavor and a very nice dry finish.  As an imperial it weighs in at 8.7% but the alcohol isn't overwhelming.  This is one of the tastiest beers I've had in a while.
From the Bottle:  "From the flames, escaped a great mind.  Out of the smoke, a wild spirit was set free.  An intellectual by day, the original flapper by night, one great AVL alum celebrated the grand elegance of Parisian spectacle.  Our homage is an imperial tribute to the classic golden saison of Wallonia, where European wheat and French-grown hops forge a depiction of herb gardens, citrus fruit and blended peppercorns.  Its grandeur is deserved of your wildest spirit – so let it all out."
The label art and description are perfect for this vividly flavorful beer.  If you can find this beer get some for tonight and some to lay down for a year or two.
Cheers!